JOIN THE FIRST PUBLIC PRE-SALE OF PURPLE COIN X (PCEX)
We are building the largest and most viable financial settlement network across the emerging markets by leveraging on the advantages of blockchain tech. Now, you have a unique opportunity to be part of this disruptive journey by joining our pre-sale.
We believe in the power of community and that is why we have allocated 3,571,429 PCEXS at an entry rate of only US$ 0.14 per token (this is the lowest it will probably ever be) for the first public pre-sale.
Become a part of our community by acting now rather than later as allocation is not guaranteed once the above-mentioned number of tokens have been purchased.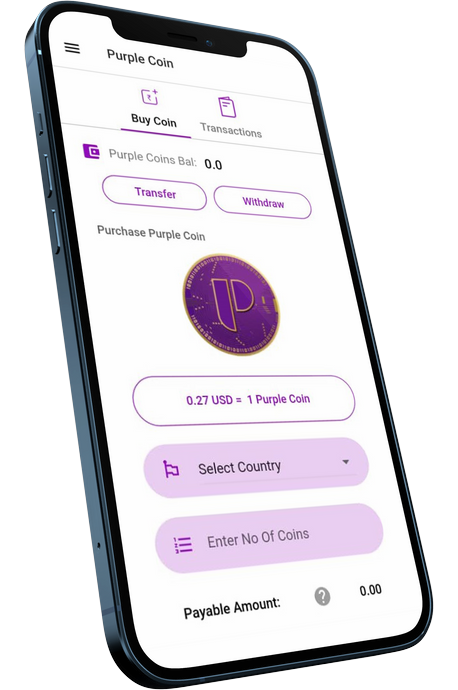 Join the Pcex pre-sale and be a part of our journey
With our first public token pre-sale, every and anyone (excluding residents and/or nationals of sanctioned/restricted countries) can join our network and be part of the biggest financial revolution in the P2P remittance space in Africa and other emerging market countries by simply taking part in our token pre-sale.
Lowest entry price point: By participating in our first public token pre-sale, you can get Pcex at 0.14 USD per unit, which is the lowest it will ever be hence getting in now is less costly to you than at any point in our journey.


Guaranteed allocation: We have allocated over 3.5 million tokens for the first public pre-sale event which will be allocated purely on a first come first serve basis hence anyone who participates in the pre-sale event timely enough is automatically guaranteed an allocation.


Stand a chance to hit big at Pcex's ICO event: We are working towards our ICO which should happen in the month of December 2022. The price per token at the ICO will be significantly higher than the current price per token as per expert analysis and project forecast. Therefore, getting in now as opposed to later guarantees the biggest possible value appreciation come our ICO event in December of 2022.


Take pride in being part of some thing big & revolutionary: By taking part in the pre-sale, you have by so doing become an instrumental part of Africa's biggest financial revolution. Proceeds from the seed funding round will help super charge Swychr's journey by financing several aspects of the project as detailed in the pitch deck attached in the document section of this website.
P2P remittances from the rest of the world to Africa and other emerging market countries is still very costly and begging for technological disruption.


Thanks to Swychr's proprietary token dubbed "Purple Coin" which is stable in value, remitting value (money) from the rest of the world to Africa is both cheap and convenient for the sender and the receiver (it's as simple as sending a text message with transactions, approved and settled in minutes)


Moreover, Africa being a highly fragmented market (54 countries, 8 Economic blocs and over 41 currencies) has made P2P remittances between African countries very difficult, expensive and in some cases almost impossible.


Swychr is specifically simplifying remittances between African countries in the same way we do for remittances to Africa from the rest of the world using our stable Purple Coin.


Furthermore, over 57% of Africans of banking age do not have bank accounts and hence are completely excluded from the global financial system and its obvious advantages.


Swychr will eventually ensure complete financial inclusion not only for Africans but across other emerging market countries by becoming the leading mobile wallet with all basic banking features.


Frequently Asked Questions